The Pilot Plant Real Book, by Francis X. McConville, is a unique and highly practical new handbook for R&D chemists, chemical engineers, technicians, and students. Bridging the gap between chemistry and engineering, it is designed for process R&D, kilo-lab and pilot plant personnel, and is packed with information for the safe and effective scale-up of new processes.

The revised and expanded 2nd edition is richly illustrated with over 200 distinctive charts, graphs, figures and data tables, and contains countless tips and techniques, an exhaustive index, bibliography and recommended reading list. 320 pages, 8.5 x 11 inches, two-color, robust lay-flat binding. $174.95 U.S. [ISBN 0-9721769-2-6]. Available through this site or select vendors of scientific books.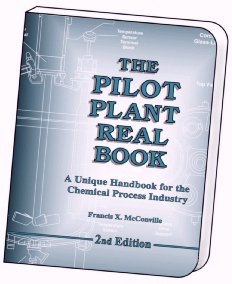 A brief description of the contents:

• Properties of common solvents, gases, reagents, buffers, and heat transfer fluids...
azeotropes, boiling point relationships, flammability, pKa, solubility and chemical compatibility tables... conversions and mathematical formulae...



• Clear, concise monographs on heat transfer, temperature control, agitation, distillation, extraction, crystallization, filtration and drying... reactors, TCU's, chillers, motors, pumps, electricity,
intrinsic safety and process control...



• Safe practices for handling of flammable solvents, compressed gases, toxic substances and electrical equipment... hazardous materials classifications, selection of personal protective equipment...



• The role of the pilot plant in chemical development, guidelines for developing scalable reactions, process safety screening, Haz-Ops, cGMP, tips for maximizing efficiency and getting the most
out of process scale-up... and much more...